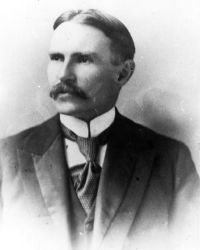 To William Morton Fullerton
Address:
Care of C. A. Strong, Schiffbauerdamm 3II, Berlin.
Dresden, Germany. September 9, 1886
My dear Fullerton.
I was lounging on the soft and luxurious brown flowered damask sofa of one of the pleasant apartments on the first floor of a Dresden boarding house or "pension", as people call such an abode in this eastern and more anciently civilized part of the earth—the seat of a riper and more aesthetically developed culture than that of even that noblest of American institutions, our beloved and but recently relinquished Alma Mater, dear old grassy, elm-shaded Harvard University—and I was suffering my summer noontide fancies to be dissipated into the thin and fleecy flakes of a disintegrating and dissolving mist of lazy and listlessly vagrant day-dream phantasy, when, by what happy and opportune inspiration of Providence I scarcely venture to conjecture, our common friend Lyman, with whom, by the way, I am now relishing the sweets of European existence, read me, with that unobtrusive and neverfailing thoughtfulness and solicitude for others' pleasure which characterizes him in so remarkable a degree, a delightfully easy and charmingly artistic composition of yours—a letter you addressed to him not long ago, whose beauties produced such a vivid and lively impression upon me, and so irresistably brought to my mind the recollection of those happy college days, which, to be sure, are not yet lost in the pink and purple glory of the western sky, and of such of them in particular as furnished me an opportunity of enjoying your graceful and abundant erudition, that I could not withstand the impulse to send you a word of greeting across the restless billows of the blue-green Atlantic Ocean, although I knew beforehand that the rustic vulgarity of my coarse and plebeian mental idiosyncrasies would render it hopeless and utterly impracticable for me to rival the elegance and refined, and copious, and Ciceronian flow of your composition, because I hoped that you would forgive the shortcomings of such poor imitation as I could pretend to produce in view of the always flattering evidence of the attempt; and furthermore that you might be interested to hear about the wanderings of two of your whilome friends and classmates, to whom your epistle had furnished so much instruction and entertainment, and who would willingly induce you to take up the pen once more and to commit to the invaluable and humanizing agency of ink and paper some of the stray thoughts of your less busily and productively occupied hours, for the delectation and exuberation of both, but especially of
Your sincerely admiring friend
George Santayana.
From The Letters of George Santayana:  Book One, [1868]-1909.  Cambridge, MA: The MIT Press, 2001.
Location of manuscript: Harry Ransom Humanities Research Center, University of Texas at Austin.