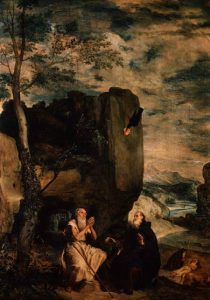 To Lawrence Smith Butler
Via Santo Stefano Rotondo, 6
Rome. September 19, 1946
Dear Lawrence,
The parcel from you arrived this morning, full of just the right things. The jars of marmalade were safe, only a little had leaked out of one of them through a crack in the cover. I have not yet tasted the contents, but they look inviting, and please thank the lady who sent them; it will be a treat. The only objection is that I get used to luxuries, and the memory becomes a sort of temptation of Saint Antony when I find myself in the wilderness again without even the wild honey that St. John the Baptist allowed himself. Perhaps the same pious ladies supplied it. The Gospels don't tell us everything, but they do somewhere mention this charitable practice of good ladies in all ages and countries, in compliment to hermits. By the way, I have read a most charming story, written by St. Jerome about the visit of St. Antony to St. Paul the Hermit in the Thebaid: and I have found a photograph of a magnificent picture by Velazquez—his most beautiful one, I think; for his subjects don't often lend themselves to poetic treatment, which I have the vulgar taste to like in painting—representing the scene. I remember the original, with the most lovely landscape, a raven bringing a loaf from heaven, and a tame lion digging the grave for St. Paul, more than a hundred years old, to occupy when he has finished the sublime prayer which he is evidently saying. Look up this picture, and tell me if you don't like it. I have it in a book on Velazquez, which I will give you as a memento if you will come to see it and me.
Thank you especially for the black tie, which is splendid and will last me—if I live—for years. I feel very young and well, and buoyed up by the thought of perhaps finishing my book on Politics, which will be more useful than any of mine hitherto, usefulness never having been a dominant trait in your affectionate old friend
G Santayana
From The Letters of George Santayana:  Book Seven, 1941-1947.  Cambridge, MA: The MIT Press, 2006.
Location of manuscript: The University Club, New York NY.