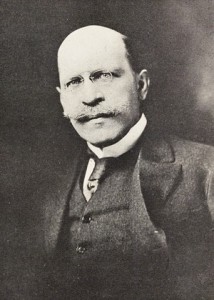 To Hugo Münsterberg
75 Monmouth Street
Brookline, Massachusetts. September 16. 1897
Dear Professor Münsterberg,
Your charming little volume had by some oversight not been sent on to me, and I found it here only the other day on my arrival. I didn't know you also yielded sometimes to poetical temptation, and I have read your poems through with great delight. It seems to me—although I fear my judgment of German verse isn't worth much—that they breathe the spirit of the lovable and inspired Germany of pre-prussian days, and are truly ideal. What you have to say about America also hits me, especially that description of Yankee freedom—freedom to walk on the track! But you are too favourable to the ladies; they are so shrill. Thank you very much for sending me the book.
I am not living in Cambridge this year, but here at my mother's. Nevertheless I hope to have frequent opportunities of seeing you and Mrs Münsterberg. It is a great satisfaction to every one in these parts that you have decided to remain for good.
Yours very truly,
G Santayana
From The Letters of George Santayana:  Book One, [1868]-1909.  Cambridge, MA: The MIT Press, 2001. Location of manuscript: Department of Rare Books and Manuscripts, Boston Public Library, Boston MA